I always thought that the founders of Coral Springs truly represented White Bread America. That is, everything here in Coral Springs, complete with the city motto "The best place to work, live and raise a family " combined with the city government over regulation to insure this pristine city that has no homeless people and not a soup kitchen, is designed to keep home prices high.
How does all of this relate to Hitler and where am I going with this? Welcome to the discussion about a subdivision in Coral Springs know as Eagles' Nest , a townhome development north of Atlantic Boulevard and east of Coral Ridge drive, that also is the same name as Adolf Hitler's vacation home in Bavaria.
Eagle's Nest has some nice looking houses in it. Built in the 80's and 90's several Eagle Trace wannabees that is , those people that couldn't afford the at the time, high cost homes on the other side of the street in the gated community known as Eagle Trace bought homes here. There is an Eagle's Nest Apartments and Eagle's Nest Drive and a private charter school called Eagle's Nest Elementary School. What's most incredible about this particular community is that strangely enough is one of the few places on this planet that is named the same as Hitler's country home in Bavaria, Eagle's Nest referred to in German as "Kehlstenhous". Oops. You mean no one told you?
I suggest you do a Google Search on Eagle's Nest. The first heading that pops up is Kehlstenhouse.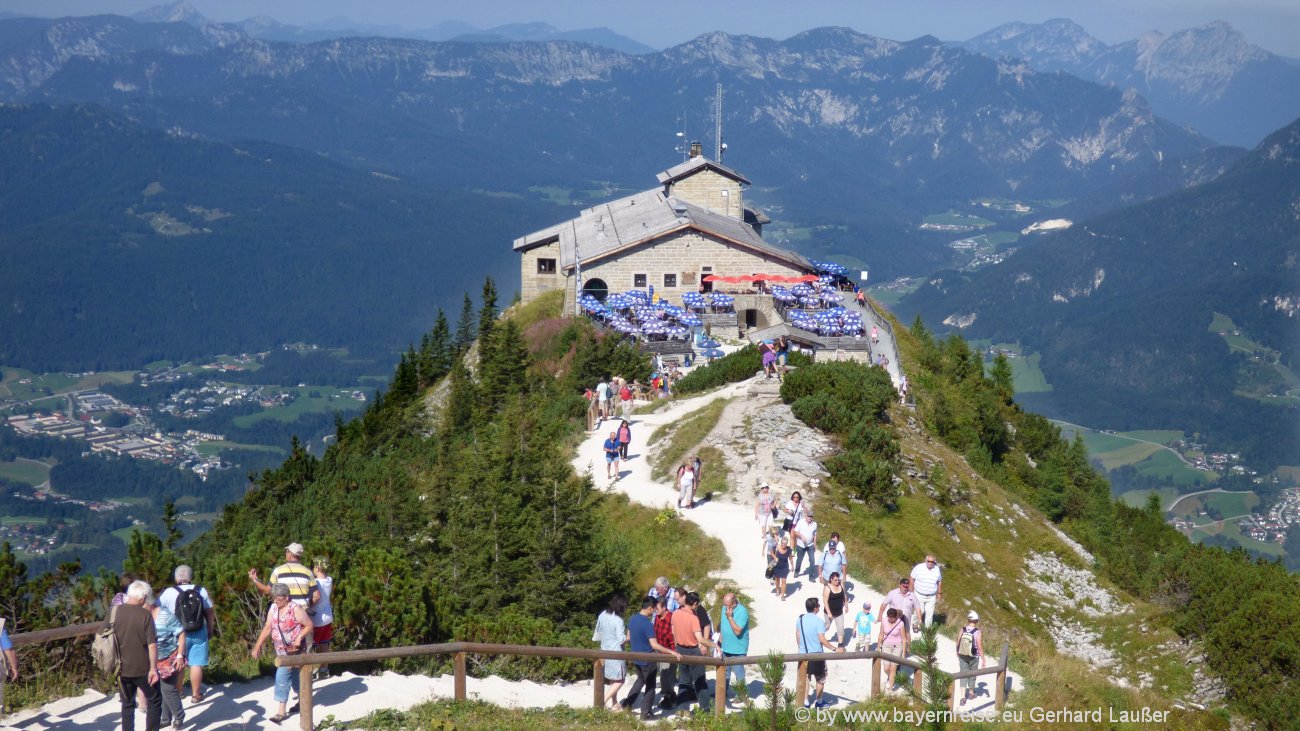 Hitler's Eagle's Nest – Excursion destination Eagles Nest in the Berchtesgadener Land
The 6.5 km long road from Obersalzberg to Kehlstein, which is unique in its design, is only used by special buses. In 35 minutes you can reach the exit point on the mountain, a 124 m long tunnel made of natural stone leads the visitor into the interior of the valley to a brass-clad elevator. With these you can overcome the 124 m height difference to "Hitler's tea house" in 41 seconds. This National Socialist building was intended primarily for official guests. Today the restaurant, also called Eagle's Nest, is a popular destination. Hikers can reach the 1834 m high Kehlsteinhaus via a wonderful panoramic path from the Ofneralm in about 2 hours or from the Scharitzkehl car park in about 3 hours."
Paid for by the Nazi Party, it was completed in 13 months in 1938. Twelve workers died during its construction.[3] It was a present given to Hitler in 1939 for his 50th birthday, by Martin Bormann, a Reich leader and head of the Nazi party chancellery.
We do not have a Tea House or Tunnels in the Coral Springs Eagle's Nest. Instead we have streets, school and subdivision – All named after one of the homes of Adolf Hitler.
How is it possible that a subdivision created in a partly Jewish community ( Coral Springs is about 15% Jewish) can be named after a well known Alpine country home of Adolf Hitler, the world's worst murderer? I am sure many would be curious, but since I am the only one that has found out this information in a world that boasts of Internet Search engines changing our intellectual landscape, is even more bizarre. Now that you are informed of this incredible fact, as a Coral Springer , you will no doubt do absolutely nothing about it. In fact, to do so, would be so out of character in a community where less than 10% show up for an election, and 90% complain about the result.
Eagle's Nest ( Coral Springs version) was not around before the Holocaust. The now defunct Coral Ridge Properties, was managed at the time of the inception of the name of this subdivision, by Werner Buntemeyer, who was born in Bremen Germany, and lived there during WWII.
The Nazi Concentration Camp known as Bremen-Farge , a forced labor camp , supplied Jews to the underground U-Boat factory located there.
He immigrated to Canada from Bremen Germany in the 50's and then to Coral Springs in the 60's. In Werner Buntemeyer's obituary ( died in 2010 ) " Werner started his 30 year career with Coral Ridge Properties as a "go to guy" for owner James S. Hunt, then in 1966 Coral Properties was purchased by Westinghouse Electric; of which then Coral Properties became a wholly owned subsidiary of Westinghouse Financial. At one point Werner served as City Manager of Coral Springs while still working for Coral Ridge Properties; a very unique situation. Eventually Werner worked his way up to become President of Coral Ridge Properties." See Obituary .
It was told that Verner got a job with Hunt because he sold him a Yacht. That was enough to move him down from Canada and let him run the show,
Werner was 14 years old, when the war ended. I am not saying he had anything to do with the concentration camp located in his town, I have not researched his family history other than finding a Major Buntemeyer that was from Bremen as well who was killed in action on the Russian Front in 1945. However, it would have been impossible for any German not to know of Hitler's greatly popularized retreat known as Eagle's Nest.
When someone named the subdivision , the internet did not exist and the best way to search for anything was through the encyclopedia. Very few people would have understood the significance of the name Eagle's Nest, unless of course you were educated in Germany and grew up during the war. Propaganda was everywhere. The history of Eagle's Nest and that it was the common name for the alpine retreat that was given to Adolf Hitler for his 50th birthday in 1939. Mr. Buntemeyer should have known the significance of this particular name. He was after all an expert, growing up in Germany during the war. Surely someone must have tapped him on the shoulder and said " Are you sure it is a good thing to name that subdivision after Hitler's vacation home … ?
To provide additional background, the code of Arms for Nazi Germany was an Eagle . (Eagle Trace or the Trace of an Eagle??) In fact after the war there were many hidden Nazi symbols ( Dog Whistles) placed by Nazi's in many countries around the world. They did it to tell other Nazis that the Third Reich lives, and to remind them of the time when the Master Race was to rule the world. It was their special code – the secret handshake so to speak preparing future generations of Nazis with the advertisement that Nazism still exists and will be back.
I am quite sure that Nazi sympathizers will take offence to this article and to the knowledge that someone else has actually found what they already knew and have been having a laugh at our expense about.
To be clear, it is quite possible that Eagle's Nest was named innocently as nothing more than a bedroom community. No harm done, since until now, no one could have even known that this was Adolf Hitler's country home. When doing the research , I found other communities that have developments that are named Eagle's Nest. However, these communities were built later then our Eagle's Nest, and the difference is when the community was conceived, no other Eagle's Nest community existed other than Hitler's vacation home in Bavaria.
Perhaps , now that we know, the name should be changed to assure the the legacy of Adolf Hitler has no part in our city. However, even though the party is over, it will be a challenge to get the name changed in a country that is fighting over statues of treasonous generals who fought a civil war that killed 500,000 Americans.
It is imperative that we dismantle and remove any symbol that can used as an idol to those that are racist or traitors to our country. Confederacy statues and flags, should be put down , and we should review the names of subdivisions, streets, parks, names of buildings and names of schools to insure there are no hidden Dog Whistles placed by sympathizers. Let's not forget that many of our Generals also were involved in the mass killing of Native Americans. Better we rename anything that stands as a monument to those that did evil on us, or even may hint at such. After all there are plenty of good people to replace these reminders of the weakness in our society.
Here are a few more Dog Whistles for everyone to think about:
Our Broward County was named after Napolean Bonepart Broward , a Florida Governor. It was said that he was "An arms smuggler as well as a racist", "in 1907 … Broward proposed that every black person be physically evicted from the state."[2]:337 According to the Sun-Sentinel, Broward was "an unapologetic segregationist."
Fort Myers or Ft. Myers, is named after Colonel Abraham Myers, the quartermaster general of the Confederate States Army.
Lee County was named for Robert E. Lee, Confederate general in the American Civil War.
Baker County : Baker (1861): James McNair Baker was a Confederate senator.
Dixie County : Need I say more ?
Plantation Florida : You get the point…..